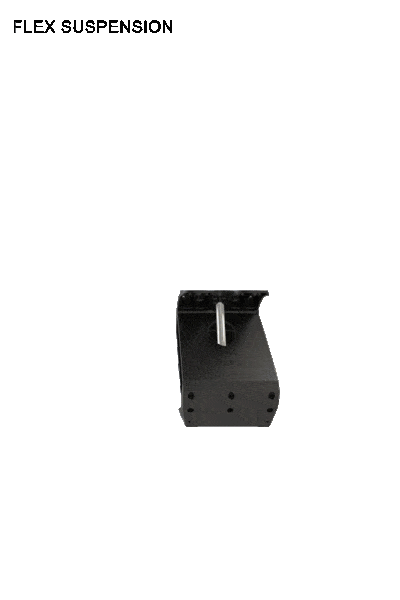 Build your own suspension boat seat from Shark FLEX suspension unit. You can select your seat type, choose the right riser box (plinth), and add accessories to suit your requirements.
Specifications of FLEX suspension unit:

Rugged simplicity: has only 3 unique parts (2 used twice).
Compatible with most off-the-shelf seats and attachments (including swivels) as well as Shark seats. See Operational info for mounting specifics.
225mm progressive and ULTRA-SMOOTH travel (no weight adjustments needed between 40kg and 120kg).
Light at only 9kg.
450mm high unloaded.
Compact 300mm wide, 350mm deep.
Less fatigue from 3 axis shock mitigation eliminates whiplash from lateral and fore-aft forces.
Non-corroding, soft-edged and non-marking 316 stainless and Flexanite construction.
Super low maintenance – See Operational info.
Tested 1 Million full 10g impacts (200mm displacement, 100ms duration, 100kg payload) – See how they are tested here.
Crash test rating to HSC2000 Annex 10 requirements.
3 year global Manufacturers Warranty on all parts
Independent tests reveal that Flex outperformed well known European brand (See report here).
Easy one man installation.
Easily repairable (shock can be replaced in under 2 minutes by one person).
Suspension can be bolted directly to a fixture with 8 bolts (minimum) see operational info.
NOTE: MORE INFORMATION ABOUT THE (OPTIONAL) SEAT SPECIFICATIONS IS FOUND ON THE LUXE PAGE HERE
Shark FLEX suspension seat system for boat

The FLEX is the core of the Shark suspension boat seat system. It provides 225mm of ultra-smooth travel in a system that is completely corrosion proof, light, and tough. Compatible with a variety of off the shelf seats, as well as those made by us. With the provided selector as well as the transparency pricing, you can select many accessories that suit your boat.